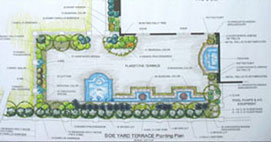 peter raarup
Peter Raarup established Peter Raarup Landscape Design in 1991 in New Orleans, Louisiana. Peter is a licensed Landscape Architect, Horticulturist, & Landscape Contractor. Peter.graduated with a B. S. in biology from Tulane University and completed his Master of Landscape Architecture at Louisiana State University.
Peter has completed many residential and commercial landscape projects in the Greater New Orleans area, Baton Rouge and Pensacola, Florida. He also designed and installed several of the gardens of Lazarus House, a residence for persons with AIDS, in New Orleans.

Peter has been involved in the design of roof gardens, terraces, and courtyards in New Orleans and New York City.

Peter has had several newspaper and magazine articles written on his knowledge in the landscape field, has appeared in two HDTV landscape design episodes, and was the subject of a major article in the "New Orleans" magazine, homes and gardens section.
Peter is the principle and owner of Peter Raarup Landscape Design and is responsible for all aspects of the company's business.